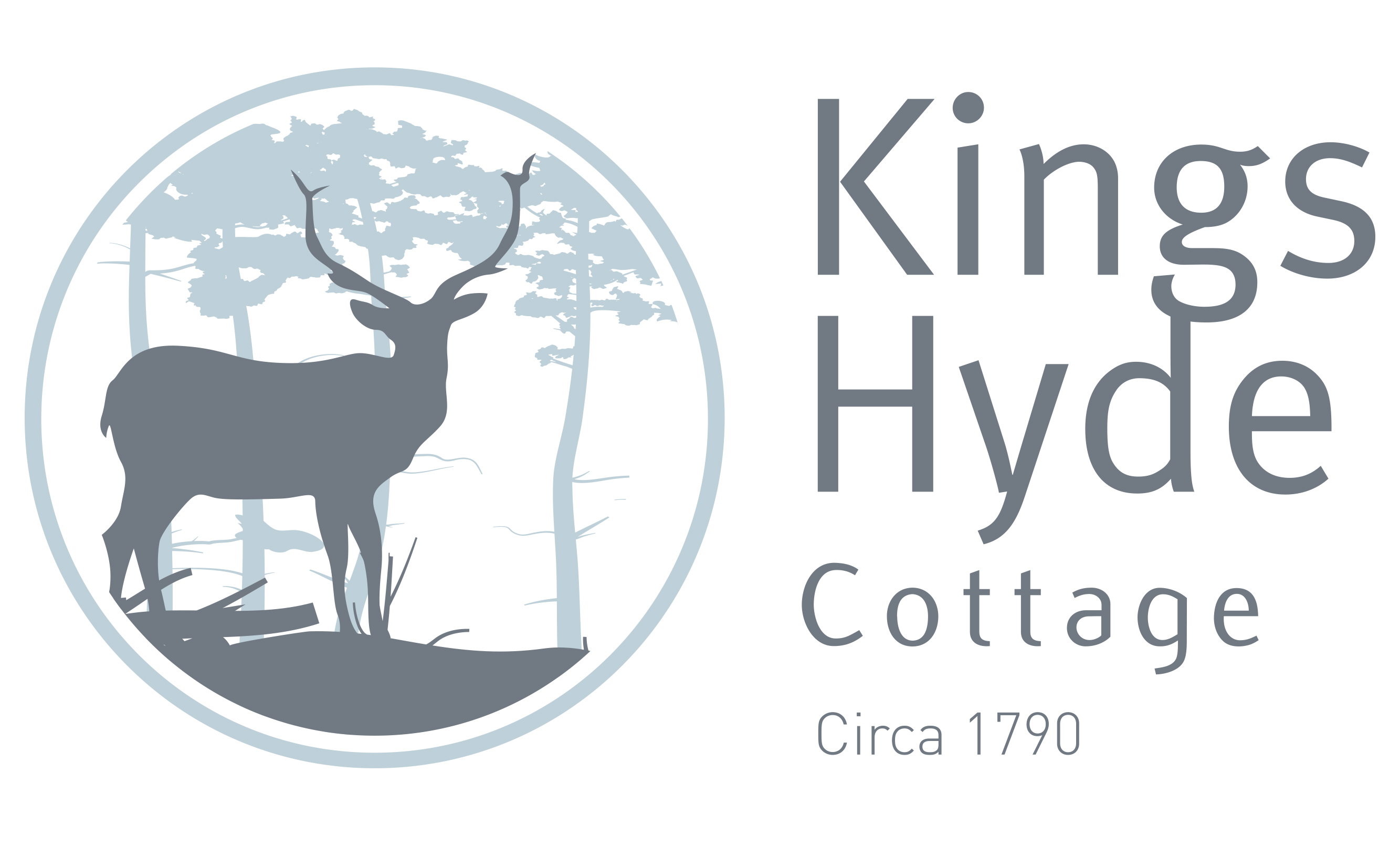 Privacy Policy
Kings Hyde Cottage Data Promise to you
Nina Toyne, also known as Kings Hyde Cottage (KHC), is absolutely committed to respecting and protecting your data while it is in our care. KHC have put in place security measures in order to protect and manage your personal data in accordance with the General Data Protection Regulations (GDPR).
Please note, Nina Toyne, is the Data Controller for Kings Hyde Cottage.
1. What Data Does KHC Collect
KHC only collects and stores personal data you want to provide to us to deliver and improve our service to you. KHC collects personal data directly such as name, address, e-mail address and contact phone numbers, primarily to enable us to process your enquiries and/or booking. If you choose not to provide your personal data, we will not be able to provide you with our products or services or with other support or responses. The legal basis for the processing of your personal data is your consent and/or any other applicable legal basis, such as our legitimate interest in engaging in commerce and offering products and services of value to you. Any consent you provide may be withdrawn at any time by following the contact methods listed in Paragraph 5. 
2. How does KHC collect and use your data
We collect the personal data, as specified above, submitted by you to KHC when you make an enquiry or a booking. This can be via KHC website, a third party booking site or via a website KHC advertise on. Your personal data will only be used for the purpose you provided it for.
KHC only collects sufficient data to comply with legal requirements and in order to process the booking and send you the necessary information. You will also be sent an email in order to complete a review of your stay.
With your explicit consent KHC will also use your names and email to send out a marketing email to stay in touch. We only send these approximately four times a year. If you do consent to these emails you have the right to unsubscribe from these at any point by using the unsubscribe button contained in the email.
3. Who does KHC disclose your information to and why
KHC will only disclose your data to third party data processors (service providers such as our hosting provider, card payment provider, booking and review provider) to the extent that is necessary to run our business. Limited data of name and email is entered into these sites by KHC in order to process the booking, collect reviews and with your consent send marketing emails.
4. Security Measures
KHC takes security measures in line with data protection regulations. KHC has security measures in place designed to prevent data loss, to preserve data integrity, and to regulate access to the data. Only Nina Toyne, as data controller, and authorised employees of our Third-Party service providers' processing data on our behalf, have access to your personal data. 
In addition, contracts are in place with such third-party service providers acting as data processors for KHC that have access to your personal data, to ensure that the level of security required is in place, and that your personal data is processed only as instructed by KHC.
5. Your Rights
You have the right to ask KHC to provide you with all the information it stores on you. The address to write to request this information is at the bottom of this policy.
There is a fixed fee of £10.00 to provide this data.
You will also be asked to provide sufficient evidence of your identity.
You have the right to ask your data to be to rectified, deleted, to restrict its use, and to port your data to another organisation. You have the right to request additional information about the handling of your personal data. You also have the right to object to the processing of your data by KHC in some circumstances and, where we have asked for consent to process your data, to withdraw this consent. Additionally, you may contact our Data Controller at nina@kingshydecottage.co.uk if you would like assistance with any of the rights.
There are exceptions to these rights, however. For example, access to personal data may be denied in some circumstances if making the information available would reveal personal information about another person or if KHC is legally prevented from disclosing such information. In addition, KHC may be able to retain data even if you withdraw your consent, where KHC can demonstrate that it has a legal requirement to process your data.
6. Countries your data might be sent to

Your personal data may be transferred across international borders. It may be transferred to countries that have different levels of data protection laws to the country from where you submitted your personal data. KHC (as Data Controller and Data Exporter) has, where local data protection regulations so require, put in place security measures for the export of personal data from its authority. Where local data protection regulations so require, KHC has made arrangements with entities receiving your personal that they shall ensure that security measures are in place, and that your personal data is processed only in accordance with EU Data Protection laws.
7. Cookies
If you agree to it via the pop-up Cookies Acknowledgement button, we use Cookies to collect statistics about how you use our site eg which webpages you visited and for how long. None of the Cookies set by the Web Site jeopardise your privacy in any way and no personal data is collected. This anonymous data is used to help improve our service and website.
8. Policy on Collecting Information from Children
KHC does not collect information from children under the age of 16.
9. Retention of your personal data
KHC will retain your information only for as long as is necessary for the purposes set out in this policy. KHC will retain and use your information to the extent necessary to comply with our legal obligations (for example, if we are required to retain your information to comply with applicable tax/revenue laws), resolve disputes, and enforce our agreements. 
10. Leaving KHC website and moving onto third party Websites
 
When you click on any external links on our website, eg places to eat or visit, you will leave our website and go to their websites, which is outside of our control. We do not accept responsibility for content, have no control over and our Privacy Policy does not apply to these companies, sites or content and if such third-party sites collect Personal Data, we cannot control how this data is processed, stored or used. We advise that you read their data collection statements, which accompany any registration and their Privacy Policies before you submit your personal information. 
11. Changes to the terms of this Privacy Policy
 
This Privacy Policy will be amended from time-to-time if we make any important changes in the way that we collect, store and use personal data. We may notify you by sending an email to your last known email address or writing to your last known postal address to direct you to the Privacy Policy if the changes are material. Our dispatch of a communication to you will, in any event, constitute notification. 
Any changes will be effective immediately. 

How to contact KHC
Kings Hyde Cottage
FAO Nina Toyne
The Old Hyde
Kings Hyde
Lymington
SO41 8LT
 
Tel: 01590 682518
email: nina@kingshydecottage.co.uk

Last Updated 09/11/2020